A day at the San Diego Dog Beach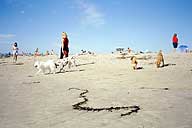 Sep 11, 2000 - We went to San Diego during the Labor Day weekend with the main purpose of visiting a dog beach. Yes, that's right, a beach where dogs are welcome--something that is sorely missing here in the city of angels. If you live in Los Angeles County, it is very hard to be a dog lover and a beach lover since dogs are banned from all county beaches. Our angel, Usagi, has been with us for one year, and even though we live minutes away from a beach, he still has no idea what a beach is. Wanting to change this, we headed south for a pleasant two hour drive toward San Diego.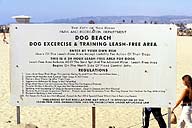 Upon arrival, we are greeted by a large sign welcoming our pooches. We noticed the words, "This is a 24 hour leash-free area for dogs." Dog heaven!
And dog heaven it is as I have never seen dogs this happy before. The dogs were running, playing, swimming, retrieving, just being dogs. The level of activity is amazing compared to what I usually see in my local leash-free dog park. Retrievers appeared to me to enjoy the water the most. I saw one poor woman trying to drag her Labrador out of the water as she wanted to go home but the dog was refusing to.